Back to ICAS Main Page


[ISDR-136-KIT] 136kHz SDR Receiver Kit    Price US$70.00
[ISDR-136-KIT+40] ISDR-136-KIT + built 7MHz I/F PCB  Price US$82.00
This is a 136kHz SDR kit. All IC's are of DIP type, so you don't need to solder
SMD parts! Enjoy listening to the 2200m band with ISDR-136-KIT as your main
receiver or as the 2nd receiver to monitor your TX signals. The kit consists of
theSDR main PCB and I/F PCB for easier assembly and maintenance.
ISDR-136-KIT+40 is bundled with the built and tested 7MHz I/F PCB. Once the
main PCB is complete, you can quickly check if the assembly is all OK. The center
frequency of the 7MHz I/F is 7,045kHz (= 28,180kHz / 4)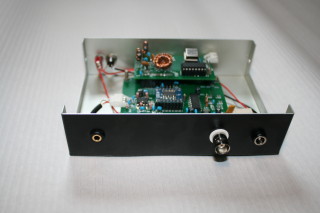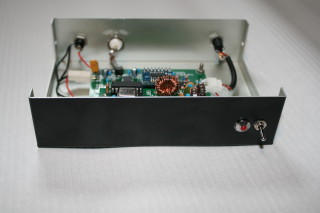 An example of a cased ISDR-136-KIT. (The enclosure and LED are not bundled.)

Case History:
The built kit has been running on a 137,777kHz grabber 24/7:
http://icas.to/argo
Recommended Software
HDSDR is one of the best SDR software to use with ISDR-136-KIT.
Features of ISDR-136-KIT:
◆ Well Compares to commercially available receivers.
◆ Sharp software filters can be utilized.
◆ Other bands may be listened with optional I/F PCB (under development).
System Requirements:
A Windows PC equipped with a stereo input. (Microphone terminal cannot be used.)
Laptop PC's usually do not have a line-in terminal, so you need to prepare a USB or
1394 sound device.
SDR Software workable with ISDR-136-KIT:
The following software have been confirmed to work with ISDR-136-KIT. It is suggested
to download any of them and make sure it works with your PC system before purcahse.
◆HDSDR
◆Winrad
◆Rocky V3.6 
◆PowerSDR I/Q 
◆any other SDR software supporting I/Q input
 

■ Specification

RX Freq: 106 - 154kHz
  (when a 48kHz soundcard is used.)
Center Freq: 130kHz, 8.32MHz divided by 16 by 4
P/S: external  9VDC - 13.8VDC
PCB Size: 85 x 63mm main PCB


(Subject to change without prior notice.)




Connections:





Assembly Guide:
Please download and read through this assembly manual before the purchase.
We are unable to accept any return goods.
Assembly Manual for ISDR-136-KIT
Please carefully read through before the purchase.

Shipping Charges via EMS:
We have started to ship worldwide. All charges outside of Japan should be bourne
by the purchaser. EMS is a secure way to deliver the goods.
Asia (excluding Middle East): US$12.00
NA, CA, Middle East, OC: US$15.00
Europe (including Russia): US$19.00
SA and AF: US$22.00
(may vary depeding on JPY/US$ exchange rate fluctuation.)

You can place your order by giving the following info:
-Model No. and Quantity you order
-Your Name
-Your complete Postal Address
-Phone Number
Send an order mail to: order @ icas.to (please remove spaces)

Payment Method:
We accept Paypal only. The Paypal mail address will be given in the order confirmation mail.
Back to ICAS Main Page


---
Copyright (C)1999 ICAS Enterprises. All rights reserved.